"The Mad Scientist's Daughter is the heartbreaking story of the journey from childhood to adulthood, with an intriguing science fictional twist.
There's never been anyone - or anything - quite like Finn. He looks, and acts human, though he has no desire to be. He was programmed to assist his owners, and performs his duties to perfection. A billion-dollar construct, his primary task is to tutor Cat.
When the government grants rights to the ever-increasing robot population, however, Finn struggles to find his place in the world."
Published January 29th 2013 by Angry Robot.
I received a digital ARC of this story.
Yes, a love story between a robot (hey, he looks human, don't hate) and a girl! This was one of the best books released this year. When I read an advanced copy last year, I thought it
was the best book I had read since The Time Traveler's Wife (that was in 2007 or 2008). I'd say The Mad Scientist's Daughter is kind of a combination of that book and Edward Scissorhands, so if you like either of those stories, you'll definitely love this book.
The character development was fantastic. I could easily see that Finn's character was a robot by how he talked, but at the same time, I found him so likeable, and I immediately was rooting for Cat and Finn as a couple. It wasn't hard to see what Cat saw in him. (I didn't have much luck finding a sexy robot cat gif to insert here).
I'll admit that there were times when the story dragged a bit and consisted of some filler. I kept reading at a feverish pace though, because I needed to know what was going to happen between Cat and Finn. The ending-along with the rest of the story-was beautiful.
I don't doubt that I will reread this in the future. I look forward to reading more books by this author.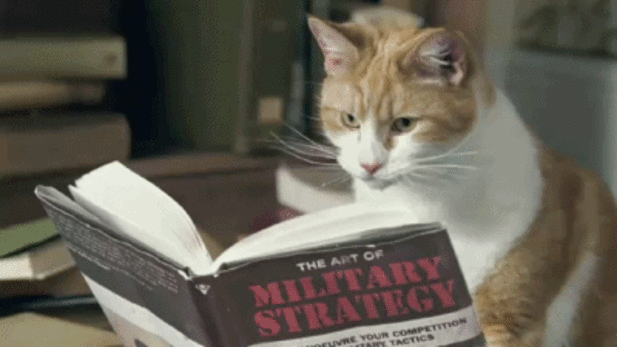 There is a lot happening in this gif that you can't see. She's supposed to be reading "The Art of Military Strategy" for class, but instead has The Mad Scientist's Daughter tucked inside. True Story.