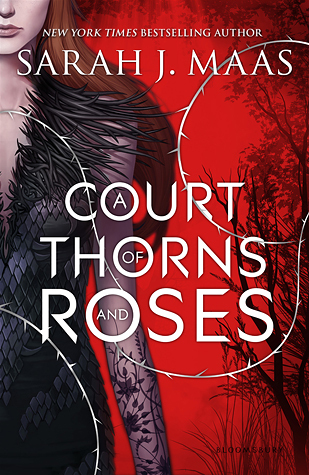 "
When nineteen-year-old huntress Feyre kills a wolf in the woods, a beast-like creature arrives to demand retribution for it. Dragged to a treacherous magical land she only knows about from legends, Feyre discovers that her captor is not an animal, but Tamlin—one of the lethal, immortal faeries who once ruled their world.
As she dwells on his estate, her feelings for Tamlin transform from icy hostility into a fiery passion that burns through every lie and warning she's been told about the beautiful, dangerous world of the Fae. But an ancient, wicked shadow grows over the faerie lands, and Feyre must find a way to stop it . . . or doom Tamlin—and his world—forever."
Expected Publication: May 5, 2015 by Bloomsbury Children's. I received a digital ARC of this story.
I began reading this one right after reading
Karen Marie Moning's
Fever
series (I HIGHLY recommend reading this), which is also about the fae in our world, but it's very action-packed and is a breeze to read. Perhaps that is why this book was slow for me during the first 70% of the story. While slow, I still liked the premise and the writing. It was as if I was watching a movie with beautiful scenes where the colors are vivid and pop out of the screen.
The writing style reminded me of
Megan Shepherd's
The Madman's Daughter
. Part of that could be because of the mention of various "beasts" and the fact that many of the fae wear animal-faced masquerade masks, so they resemble the characters in TMD in a way. The writing also reminded me of Moning's, because there were many similarities between this book and the Fever series, which perhaps could be chalked up to the folklore surrounding fae, which I don't know much about. I honestly did wonder if Maas was influenced by Moning though. Also, both authors tend to say what will happen right before it happens, they both provide visual descriptions of things occurring in the book after the scene has started (bad for those who visualize everything in their head as they read), and they tell instead of show sometimes. This is really just nitpicking, because I liked the book and the Fever series.
One key to good writing is to provide good character development via quotations. In too many books, I wonder why the male lead is so quickly attracted to the protagonist, when she's either boring or average. This time, we're given a very good answer,
"Because your human joy fascinates me-the way you experience things, in your life span, so wildly and deeply and all at once, is... entrancing. I'm drawn to it, even when I know I shouldn't be, even when I try not to be."
The last part of the book really caught my attention. The characters introduced at that point were the most developed and interesting, like the queen. I adored the anti-hero Rhys, and it's because of him that I simply must read the next book in the series. I wish I could explain why I love him so much, but I don't want to provide spoilers. Most reviewers are Team Tamlin, but I'm Team Rhys. Honestly, I think that for me, he made this book a winner. So much so that I want to read the second book NOW.