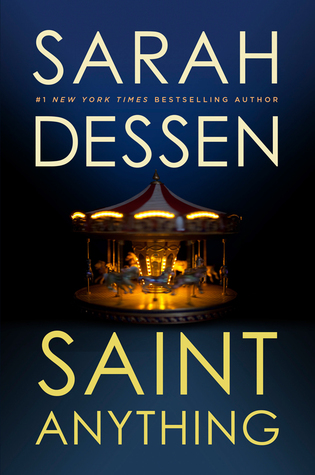 "Peyton, Sydney's charismatic older brother, has always been the star of the family, receiving the lion's share of their parents' attention and—lately—concern. When Peyton's increasingly reckless behavior culminates in an accident, a drunk driving conviction, and a jail sentence, Sydney is cast adrift, searching for her place in the family and the world. When everyone else is so worried about Peyton, is she the only one concerned about the victim of the accident?

Enter the Chathams, a warm, chaotic family who run a pizza parlor, play bluegrass on weekends, and pitch in to care for their mother, who has multiple sclerosis. Here Sydney experiences unquestioning acceptance. And here she meets Mac, gentle, watchful, and protective, who makes Sydney feel seen, really seen, for the first time."
Expected publication: May 5th, 2015 by Viking Juvenile. I read an ARC of this story.
I had to read an ARC of this book, because Sarah Dessen is so popular, and I had never read any of her books. Reviews said that this was her best book in a very long time. This book made me think of restaurants whose reputations are out of this world, and it takes a while to get a reservation there, but then the food turns out to be unseasoned, and you wonder why people like it so much. Is it just because of the reputation?
Two weeks after starting the book, I was only halfway through and I made a note "No pacing. Slow. Nothing is happening. No plot." In the same note, I mentioned that a romance started budding out of NOWHERE. Yeah, you could guess it was going to happen, but there was no build-up.
Here's the most aggravating thing; there were many chances for interesting things to happen. It was written in such a way that a few times you would think "Ooooh it's getting good now! I need to know what happens!" and then NOTHING interesting happened. Like real life pretty much. So much more could have happened with the Ames story line. Especially since Layla never forgets a face and she had been acting strange around him since the start. Did something get edited out?
What's really interesting is that Sydney even mentions how stagnant her life is and how she never takes action, 72% of the way in. So OK, even she acknowledges it, and it appears Dessen is aware that nothing happens in this book, but that doesn't make it better. 92% of the way in, she says "For so long, I'd been waiting for something to happen, a change to come" and I wrote in my notes "Me too. Me too."
Why does every character constantly blush? I think I've blushed about 20 times in my whole life?
As far as realistic contemporary novels go,
My Life Next Door
by Huntley Fitzpatrick and
Between Us and the Moon
by Rebecca Maizel are far better.
I give this three stars because she's not a bad writer, and the book isn't badly written, and it obviously does appeal to many people. It's just not for me. At all. If you like very realistic fiction that showcases the monotony of every day life, then this is for you!
After reading this, I decided to give her another shot and I read
That Summer
, which was possibly worse, and just as boring, so I don't think this book by her was just a fluke for me.